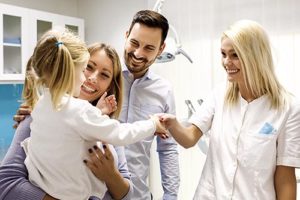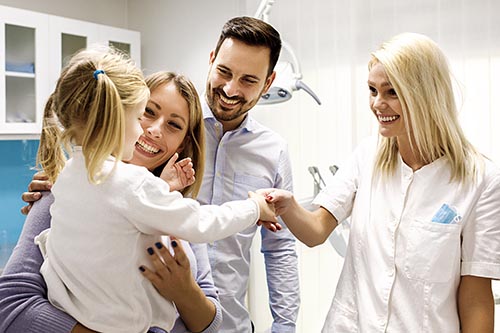 It can be a challenge for many families to find a single dentist to meet everyone's needs. Young children have different needs than adolescents. Similarly, young adults, adults, and seniors require different approaches to maintaining positive oral care. Finding a family dentist that can accommodate these needs and grown with the family as they progress is invaluable. At Lovett Dental Corpus Christi, we believe good oral health is a family affair.
Our team of pediatric dental experts can not only make your family feel at home in our offices, but we'll grow with you ensuring your family's dental health. Working with your family to ensure your children's best dental care is our specialty at Lovett Dental Corpus Christi. There are three things we want you to know about our family dentistry.
Family Dentistry Helps Children Overcome Their Fear of the Dentist
Lovett Dental Corpus Christi performs pediatric dentistry for healthy smiles. We do this by partnering with parents to keep their children calm and happy at the dentist's office. We remind all our families of one important fact–that children begin to emulate their parents at an early age. Thus, when children have a positive experience with our dental team, it makes it easier to develop healthy, positive dental habits like brushing and flossing regularly. Also, exposure to the dentist's office at an early age normalizes the experience and reduces anxiety.
Parents who model an attitude of ease of teeth cleanings and a sense of fun about everyday dental hygiene help their children feel at ease with trips to the dentist.
How can you help your child feel comfortable at the dentist? Try the following strategies:
Talk openly with them about what they can expect
Show them videos of children having good experiences at the dentist
Read books about having healthy teeth
Explain why brushing and flossing at home is important for their overall health
Our family dentistry team looks forward to getting to know your family. We can grow and develop with your child to meet their unique needs as they age.
Our Dental Practice Offers the Widest Range of Services
The best family dental practice provides the range of dental services you need throughout your life. You need different kinds of family dental services at different points in your life, such as:
When the kids are young, you need a pediatric dentist.
As the kids grow up, you need an orthodontist.
When there is an accident affecting the teeth, you may need a maxillofacial surgeon.
And depending on how regularly the adults in your family see the dentist, you may also need an endodontist or a periodontist.  Regular trips to the dentist reduce your future need for these kinds of dental services.
Building a relationship early with your dentist encourages good oral health. As individuals age, their needs change. Recognizing this, here at Lovett Dental Corpus Christi, we make it a point to offer all the general dental services necessary to maintain positive oral health for a lifetime. When you establish care with us, you have dentists you know and trust to take care of all of your dental needs.
Contact Lovett Dental Corpus Christi
Families understand that kids have different dental needs than adults and that adults have different dental needs as they go through life. Your family dentistry practice is a one-stop shop for all your dental needs. No matter your age, we have the oral health services you need. At a family dental practice, the same dentist can take care of your children from the time they are infants until they leave home and take care of you throughout your life.
Lovett Dental Corpus Christi offers a comprehensive range of general dental services including:
Alongside our general dental services we also provide cosmetic options to help restore teeth. It's a means to not only make your teeth look the way you desire but restore their use. Some of our cosmetic options include professional teeth whitening, dental bonding, dental veneers, and braces. Finally, you can come to our offices if you are in need of specialty services such as dental implants, ridge augmentation, root canals, and oral surgery. We can take care of all of your dental needs. So reach out to us today at 361-986-1117 or request your dental appointment online.