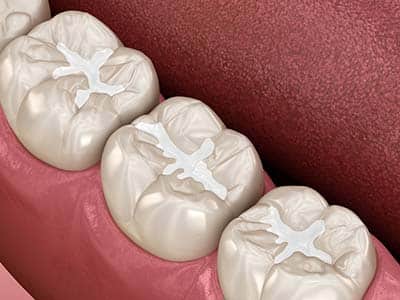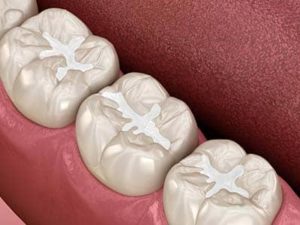 Sealants typically arise as a topic of discussion when children have a greater risk of developing cavities. However, adults may also benefit from having sealants applied to high-risk teeth. While brushing and flossing go far to prevent cavities, some factors make it difficult for adults and kids to avoid developing tooth decay. Because molars have rough, uneven surfaces, they easily attract and retain leftover food and bacteria. Some patients have deeper molars with more uneven surfaces than others. In these cases, our dentists at Lovett may recommend dental sealants for adults in Corpus Christi, TX.
Dental Sealants for Adults in Corpus Christi, TX – How They Work
The application process for dental sealants is fast and easy. First, your dentist will clean and dry your tooth. Next, the dentist will apply an acidic gel to the tooth's surface. As the gel dries, it will roughen up to allow the sealant to form a strong bond with your tooth. After allowing the gel to harden for a few seconds, the dentist will rinse the gel off and dry the surface of the tooth before applying the sealant. Once in place, your dentist will use a light to harden the sealant. Pediatric and adult sealants reduce the risk of tooth decay by 80%.
Sealants go over teeth that already have a cavity. The clear coloring of some sealants will allow your dentist to keep an eye on the cavity to ensure the condition does not worsen.
Dental Sealants for Adults in Corpus Christie, TX – How Long Do They Last?
In most cases, a sealant will remain intact for several years. Your dentist will keep an eye on the condition of your sealant and recommend reapplication when the time comes. Because your sealant will require monitoring, it will be even more important for you to visit your dentist as recommended for routine checkups and cleanings. Our dentists at Lovett have the training and experience to meet all your dental health needs. The extensive list of services we offer includes:
Are Dental Sealants for Adults in Corpus Christie TX Safe?
Sealants are safe according to the American Dental Association. Although these protective coatings do contain a tiny amount of BPA, the amount of BPA exposure a patient receives from a sealant is roughly equivalent to the amount you would encounter while touching a paper receipt or using cosmetics. Dental sealants have no known side effects. However, you should notify your dentist if you have any known allergies to verify that sealants are an appropriate choice for you.
If you had cavities in the past or if you struggle with keeping the surfaces of your teeth clear, dental sealants may be the solution you need to keep your teeth strong and healthy. Call our office to speak with one of our courteous, informative staff members, and find out how we can examine your teeth and discuss dental sealants and other options we offer to help you protect and preserve your teeth from decay. In addition to protecting your teeth with sealants, we will also recommend lifestyle practices and work with you to monitor your teeth and gums to help you maintain optimal dental health. If you are looking for a reputable general dentist in Corpus Christi, TX, contact Lovett Dental Corpus Christi at 361.256.7896 today.